"It was good to be together during the Reaching the Summit Conference last Thursday.  God used George Yates to touch all of our lives.  I am personally grateful that you took time to be present…" Neal Hughes, Associational Missionary to pastors.
To find out how to book a conference in your area please contact George L. Yates and SonC.A.R.E. Ministries at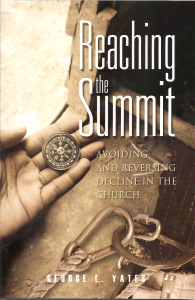 glyates@soncare.net
To order your copy of Reaching the Summit from SonC.A.R.E. Ministries visit our Resource Page or send a check or money order for $16.00 ($14.00 plus $2 shipping) to the address on our contact page.
Click here to view and read what others are saying about Reaching the Summit.
You can view a Reaching the Summit overview conference here.
See below for more information of what's inside the book.
For more downloadable resources to assist your church in Reaching Your Summit visit: Downloadable resources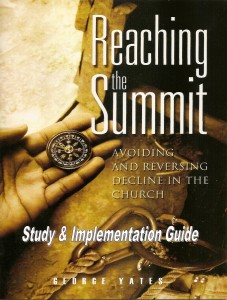 Study & Implementation Guide
The material in this workbook/manual is intended to serve as a guide to be used alongside the book Reaching the  Summit: Avoiding and Reversing Decline in the Church. The intent is to assist organizational leaders in searching with  an open heart the needs of the organization. Then developing and implementing strategies and practices to build a sustainable healthy, growing organization for God's Kingdom.
To order your copy online visit our Resource page or send a check or money order for $7.50 plus shipping.
________________________________________________________
Why are so many churches in decline today?
What causes decline in churches?
Churches do not intentionally walk away from their purpose (first love). Decline is certainly not in the motives or objectives of any church.
It is imperative that church and ministry leaders take an objective evaluation of the reality of all aspects and facts of their ministry setting.
Leaders of a declining organization must come to the realization that the organization is in decline and know there is hope.
There are principles and steps to reverse the trends of decline. First, there must be a "want to" attitude among the leaders first, and the members of the organization.
This book identifies five phases of decline and provides eight principle areas any church or organization can address to avoid or reverse decline of the organization.
Phase One – The Loss of Vision
Phase Two – Lack of Purpose
Phase Three – Denial of Reality
Phase Four – Grasping for Survival
Phase Five – Relinquishment of Ministry
As Jesus approached a man at the pool of Bethesda He asked, "Do you want to get well?" Instead of answering the question it is interesting to note the man began making excuses, blaming the state of his condition on outside sources of which he had no control. How similar we find the church of today. The question remains, "Do you want to get well?" Principles never change. The second portion of this book deals with practices based on time tested and proven principles to help your church avoid or reverse the course of decline.
To find out more about identifying the five phases or the areas and principles for reversing or avoiding decline in your church, contact George Yates and SonC.A.R.E. Ministries.