Ten valuable sessions to better equip your Sunday School and small group Bible study leaders. Plus, three additional ideas for special sessions. Your Bible study classes can become more effective at teaching, reaching and winning souls for Christ. A complete years worth of monthly training sessions.
The Sunday School Leader Equipping (SSLE) Series is a useful resource for churches of any size. The SSLES is comprised of twelve stand alone sessions designed to equip your small group Bible study leaders.
Each session comes complete with a Teacher's guide, corresponding Powerpoint Presentation, and a reproducible handout worksheet for your leaders to take notes.
With ten complete sessions and three alternative sessions you have a full year's worth of monthly workers meetings.
Equip your leaders using SSLES Volume 1 and enjoy the fruits of a growing Bible study—not to mention experiencing Kingdom expansion.
The teacher's Guide gives you all the information you need to feel confident in delivering a powerful equipping session to your Bible study leaders each month. Combined with the professional PowerPoint presentation that follows your Leaders outline and a handout/worksheet that you can print off and copy for each leader in attendance. This CD is complete for building and delivering monthly leaders meetings in your church.
Visit our Resource Page to purchase your copy of SSLES.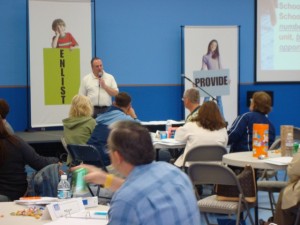 Volume One sessions include:
A Personal Connection to the Vision of Sunday School
Enrollment
Flake's Formula
If the Church were a Business…
Impacting Dual Circles (Leaders and Sunday School)
Learning Styles
Methods of Teaching
Multiply Your Ministry
The Need to Feel Needed
Why Do We Do Sunday School?
In addition to these sessions there are three alternatives.
1. Annual August Meeting
2. Summer Gratitude Gathering
3. A Missional December
Also, on this CD you will find an Articles and Resources folder with helps for the Sunday School Director or other leader of monthly meetings. Some resources are included on the CD. Others are referenced to a web site or other available resource.