Coaching: A way of Leadership, A Way of life is a great resource for every person in leadership, anywhere. And we are all in leadership, somewhere. Purchase your copy here.
"Coaching is about relationships so interpersonal skill development is crucial for those who want do it well.  This book identifies practical ways to improve listening skills and other vital tools for shaping leaders.  As you implement these insights, not only will you learn to coach others, but the book itself will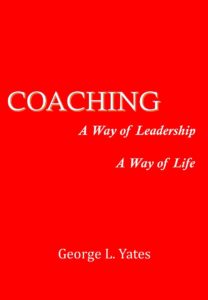 coach you to greater leadership effectiveness." Jeff Iorg, President, Gateway Seminary
Reading this book, you will explore the two greatest fundamental practices of coaching. How many senses do you use when listening to others? Do you realize you can utilize all five senses to become a better listener? It is true, when you learn to listen with more than your ears, you will become a better listener, and a better communicator. You will become a more effective leader and coach. If you're listening only with your ears, you're missing the point.
You are asking the wrong questions! This is true in most every organization and casual conversation in society today. Have you ever considered the nature and purpose of a question? Learn these two characteristics and you will be on the road to formulating the right questions. Learn to ask questions leading to greater effectiveness.
"George Yates is a master at asking questions. Even before Reading, Coaching: A Way of Leadership a Way of Life, I have seen first-hand how coaching can radically change the culture within a church, his coaching helped change ours!  George masterfully uses the art of asking the right questions, to lead churches and people on a road to self-discovery, helping them identify the God-given purpose for their church." R. Jason Price, Senior Pastor, Cornerstone Baptist Church, Nicholasville, KY
Order your copy today and begin a journey to effective leadership and assisting in the growth of others. Effective leadership is a result of motivating others to accomplish the tasks of your organization while growing personally. Click here to order your copy today! You can also contact SonC.A.R.E. Ministries to find out how to attend or host a coaching conference where you'll hear and see these characteristics explained and practiced by this master of coaching, George Yates.
This book introduces coaching, while simultaneously adding the richness of George's years of experience and expertise as a coach.  New and seasoned coaches alike will find this book helpful.  George expertly covers the topics of listening and questions throughout this book. Leaders will benefit by learning the importance of listening to the eyes, face, shoulders, arms and hands of others.  Add to this, the practical teaching on the formation of powerful questions, which is invaluable.  My favorite part is the section on eye movement – horizontal and vertical.  This book is ideal for the leader that is looking for a solid biblical approach to coaching. The practical insights contained in these pages will be a significant resource for all of today's leaders.  Thank you, George, for this outstanding resource. J. Val Hastings, Master Certified Coach, Coaching 4 Clergy
George, has written a very good book on Coaching that deals with the kinds of things every coach will need to apply. Thank you for letting me read it. Every person interested in coaching others needs to read this book. It is thorough, practical and very applicable to real life coaching. I will use it in my Revitalization strategy. I appreciate you brother. Larry Wynn, Vice President, Church Revitalization and Evangelism, Georgia Baptist Mission Board
George Yates has written a practical, easy to follow guide for those who desire to assist churches to move to the next level through coaching. George has led Coaching seminars for me for years. His simple, easygoing temperament betrays his wealth of experience, wisdom and intellect. In my opinion, his humble and sincere way of coaching churches is exactly what most of our churches need. He has been able to put into words his modest approach so that leaders in any size church can learn and implement these skills into their personal and professional ministry in and through the church. This is a must read for any Pastor, leader or coach who is ready to move their people to the next level. Sean P. Keith, Sunday School/Discipleship Strategist, Louisiana Baptist Convention
George Yates' latest book, reminds me of the lyrics of John Fogerty's song "Centerfield" and I must say, "Put me in coach, I'm ready to play today!" I have known George and have read and used everything he has written to improve my performance as a leader. Regardless of your profession, this book will help you to become a better listener, learner and most of all a leader! I encourage you to join George on the path of self-discovery and a better way of life! Dr. Larry Cheek, Associational Missionary, Stone Mountain Baptist Association of Churches
George Yates brings fresh insight into coaching conversations through his experiences in business and ministry.  This book provides great tools for sharpening your listening skills and a wealth of resource about developing and using questions effectively. George pulls it all together in some practical examples. Coaching: A Way of Leadership, A Way of Life is an excellent resource for anyone looking for practical help in working with people, leaders or leadership teams. Tom Belew, Consultant, Healthy Church Group, California Southern Baptist Convention
The principles taught in this book, are highly practical and transferable to any setting. They reveal the personal insights of an effective coach with decades of experience. If you have a desire to revolutionize the way you lead in your professional or church life, you need to read this book!  R. Jason Price, Senior Pastor, Cornerstone Baptist Church, Nicholasville, KY.